InstructBot
Connect to StreamElements, StreamLabs, TipeeeStream or Twitch and let chat take control of your game by using bits, donations, points and more; you decide.
InstructBot is fully configurable and supports multiple games giving you the flexibility to choose what to your viewer can affect within the games you play.
Login to download the Desktop App and start your 30 day free trial.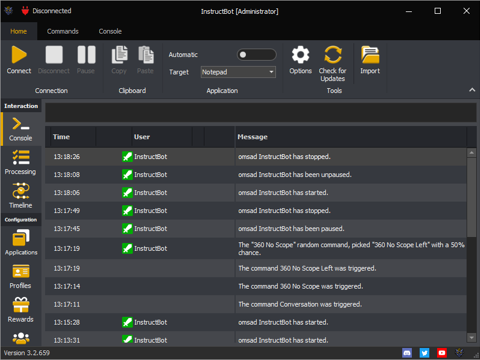 Play a Game
Run the application, configure, connect to Twitch and play a game.
Viewers Interact
Your viewers use bits, donations, points and more to trigger actions you've configured; causing effects in game or on screen.
You React!
The actions occur without your input forcing you to react, will your viewers attempt to help or hinder you?
User Configurable
InstructBot is fully configurable through it's UI, allow your viewers as much control as you're comfortable with.
Target A Specific Application
No need to worry about tabbing out of your game and a command being executed against the wrong application, as commands can be configured to run only when the target application is active.
External Command
Need to be able to trigger another application, then setup an external command to launch it for you.
Help Command
Automatically generate help messages to keep your viewers informed about what's currently enabled.
Input Command
Allow viewers to press keys, mouse buttons or move your mouse on your computer as you play. Trying to be sneaky, allow them to ruin it as they make you shoot...
Mute Sound Command
Allow viewers to mute your game sound, you didn't need that sound right?
Play Sound Command
Allow viewers to play sounds on stream with a play sound command.
Random Command
Allow your viewers to spin the command wheel by creating random commands.
Swap Left and Right Mouse Button Command
Get confused easily? Then maybe allowing you viewer to swap your left and right mouse buttons for a duration isn't for you.
Text Command
Have social links which your viewers need to know about? Then use a text command to output them into chat.
Timeout Command
Want your viewers to be able to time each other out? Setup some timeout commands picking the required duration for each.
Moderators get on your viewers nerves, then enable moderator timeout so they say bye, bye, for a few minutes.
Don't want to restore them manually when the timeout ends, then automate it with automatic restore.
StreamElements
Integrated with StreamElements. InstructBot can be configured to respond to tips and points.
StreamLabs
Integrated with StreamLabs. InstructBot can be configured to respond to donations and points.
TipeeeStream
Integrated with TipeeeStream. InstructBot can be configured to respond to donations.
Twitch
Colloquially known as "BitBot", InstructBot integrates with Twitch and can be configured to respond to bits, channel rewards, subscriptions and more.
What content creators say
6 Monthly
Subscribe to InstructBot for 6 months.
18.00 GBP every 6 months.
Yearly
Subscribe to InstructBot for 12 months.
Trial: Every subscription has a 30 days free trial for new subscribers. If you cancel within the first 30 days you wont be charged.
System Requirements
Operating System: Windows 10/11. Network: Connection to the Internet.